Studio Lighting: Einstein vs Alienbee 400
Awhile back, I wrote a post about the difference between PLM lighting systems . Today, I am so excited to share the next part of the series, Studio Lighting: Einstein vs Alien Bee 400!
The best word to describe the beginning of my studio lighting journey would be confused. I spent countless hour searching the internet and chatting with other newborn photographers about the "best" lighting systems available. Einstein was one, Alien Bee 400 was the other. The price different was significant, and since I was just starting to build my business from hobbyist to professional, I couldn't quite justify the price tag of the Einstein, so I happily purchased the Alien Bee 400.
I have been using the Alien Bee 400 from Paul C Buff for 4 years now. I have moved 4 times, and while my PLM system's have changed with each location, my light has not! It really has been great, but part of me has wondered if all the Facebook forums out there were right? Is the Einstein a "life-changer"? Will my images be "that much better" with just the switch of a light? I had used an Einstein before, but never done a side by side comparison! So, after talking with my fabulous friend and fellow newborn photographer, Ashley with Art by Ashley Photography we decided to put it to the test!
Our goal was to photograph a newborn on a couple different sets  test each light on each set. We set up each light with a 64″ White PLM with black outer cover and white diffusion fabric and got started!
My "controls" – Nikon D610, Sigma 50 1.4 ART , F2.8 SS 1/160 White Balance K5560 ( I normally shoot at K5000 but forgot to change it back from an outdoor shoot so I just kept it there). I did adjust the ISO a couple times from 100-160.
Alien Bee 400
First, I am going to share some final images. These have all been edited exactly the same. They have had the same ACR adjustments and same editing in Photoshop.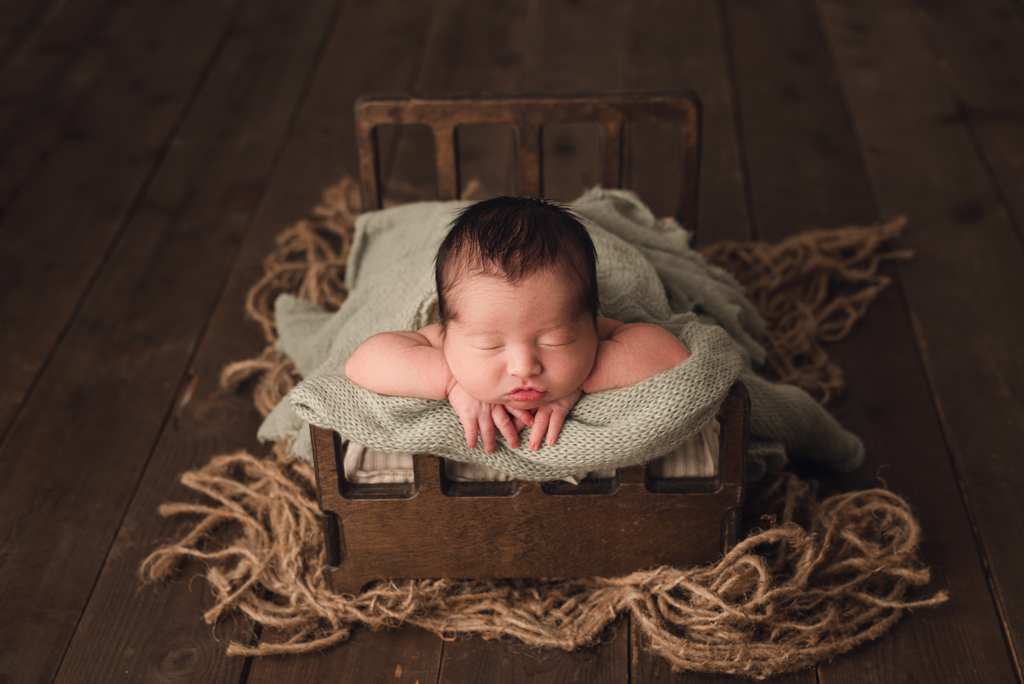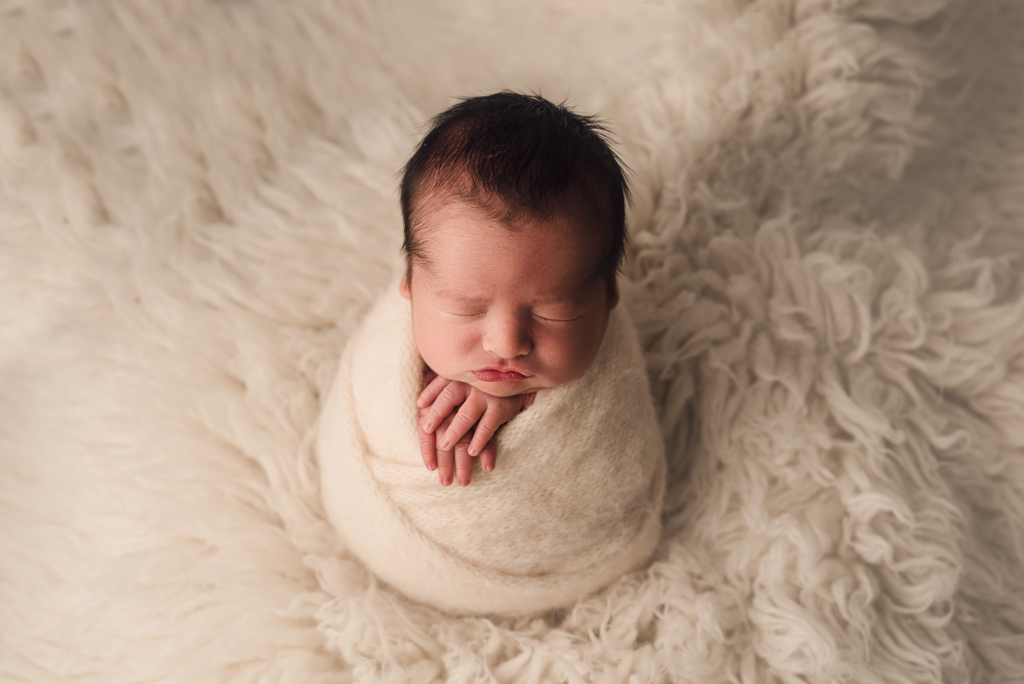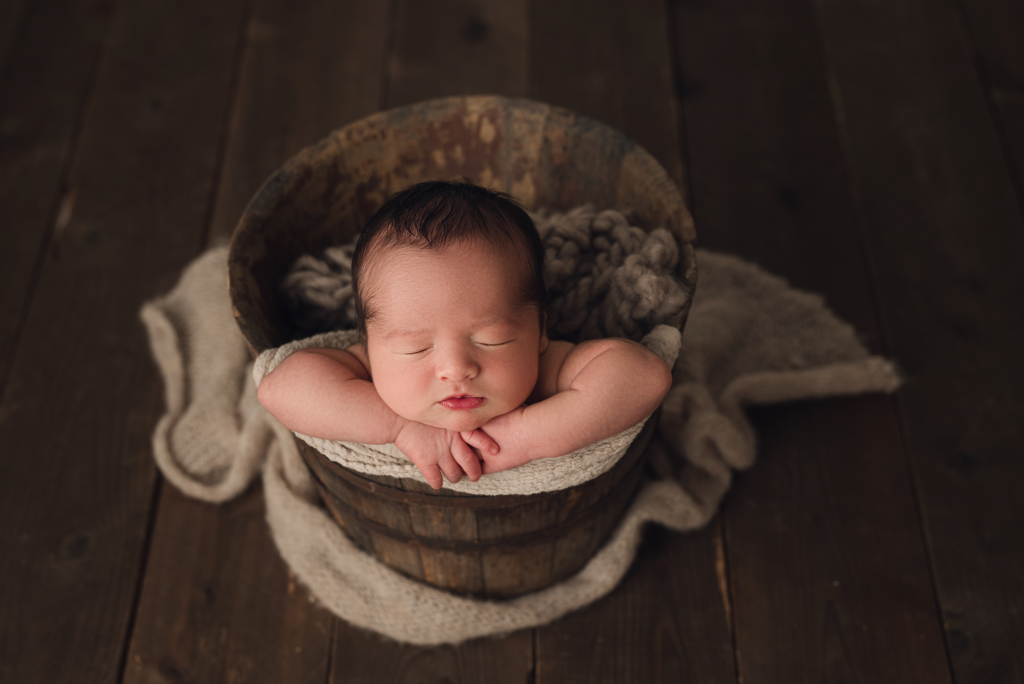 Can you tell which images were taken with which light?
During the session, I would peek and see the images from the back of my camera. To my surprise, I couldn't tell any noticeable differences in the back of camera preview. This made me even more anxious to get the images up on the computer!
Let's start with the first set of images we photographed.
I was pretty surprised at the difference! Both of these images are straight out camera, no adjustments in Camera Raw, and both photographed at K5560.

What do you notice first? The Alien Bee definitely photographs warmer and a bit more red. There is no question there!  The Einstein has a bit of a yellow tint to it, but nothing crazy. The next set of images shows both images with the same exact ACR preset applied. This preset takes one click and done. The only additional adjustments I make normally are exposure adjustments.

Now, what if I applied my same Camera Raw adjustment but lowered the temperature and tint on the alien bee image to closer match the Einstein image?

I made adjustments to all of my images and save presets so that my workflow is consistent. So, making this adjustment takes no additional time for me to do, some of these adjustments can even be made in camera with a lower Kelvin temp and camera setting adjustments if you wanted.
Here is the final images with the original adjustments. Which do you prefer?

Here is the final image with the additional adjustments made to the Alien Bee image. I feel like color wise, these images match up pretty dang close!

Let's move on to another image!

Now, knowing that I need to make a couple additional adjustments to my images in camera raw, I use my preset on both.

Can you see any noticeable differences? What about in the final images?

So, what's the verdict? Which Studio Lighting is best?
For years now, I've read how people's lives have been changed from switching from the Alien Bee to the Einstein, and there are definitely some differences!
The Alien Bee definitely gives off a warmer tone with a red hue while the Einstein does not. The differences were easy to change in Camera Raw. I wouldn't deliver the Straight out of Camera Images to my clients, and I would be making adjustments of some sort to both.
 The Einstein is an amazing light, it is simple to use, it offers the ability to shoot at wide open apertures (although we did not get to test this feature), and if you are shooting at a rapid speed, the color is slightly more consistent than the Alien Bee. It has a slower full recycle time than the Alien Bee at 1.7 seconds. Total cost for the Einstein 640 is $499+shipping.
The Alien Bee 400 is a workhorse. It's light, easy to set up, it has simple features, with the light's power being controlled by a slider. Recycles quickly  at .5 seconds. However, if you are wanting a strobe for outdoor use, this light is not quite powerful enough. Total cost for the Alien Bee is $224+tax.
So, will I be rushing to order an Einstein anytime soon? I don't think so.
Do I regret not shelling out the extra cash for the Einstein at first? Absolutely not.
I would love to know YOUR thoughts? Are you surprised at the difference? Based on these results, do you feel like the Einstein is the way to go?